Custom Fabric Banners
One Day Production●Exceptional Quality●Free Design Services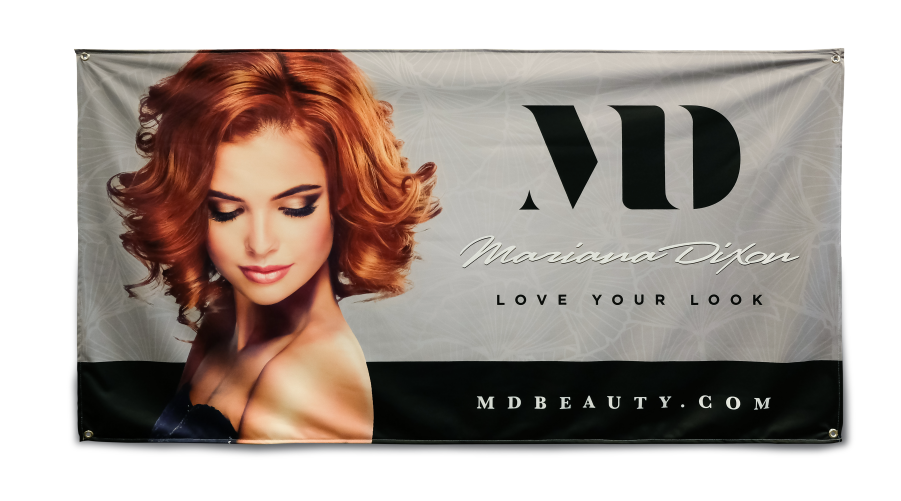 What Are Fabric Banners?
Fabric banners are printed on a 100% polyester, washable, wrinkle-resistant fabric. The 9 oz. polyester offers minimal light reflection, with a light sheen that enhances the dye-sublimated printed design and overall print quality of fabric banners. Further, the thin threads and tight weave of the banners results in an ultra durable, lightweight banner. Multiple display options, fully custom printing, and the aesthetic appeal of these banners makes them perfect for a wide range of indoor uses including in churches, events, businesses, in-store displays, and more.
Fabric banners are seamless up to 9.5' x 100', allowing you to get the size you need for nearly any application.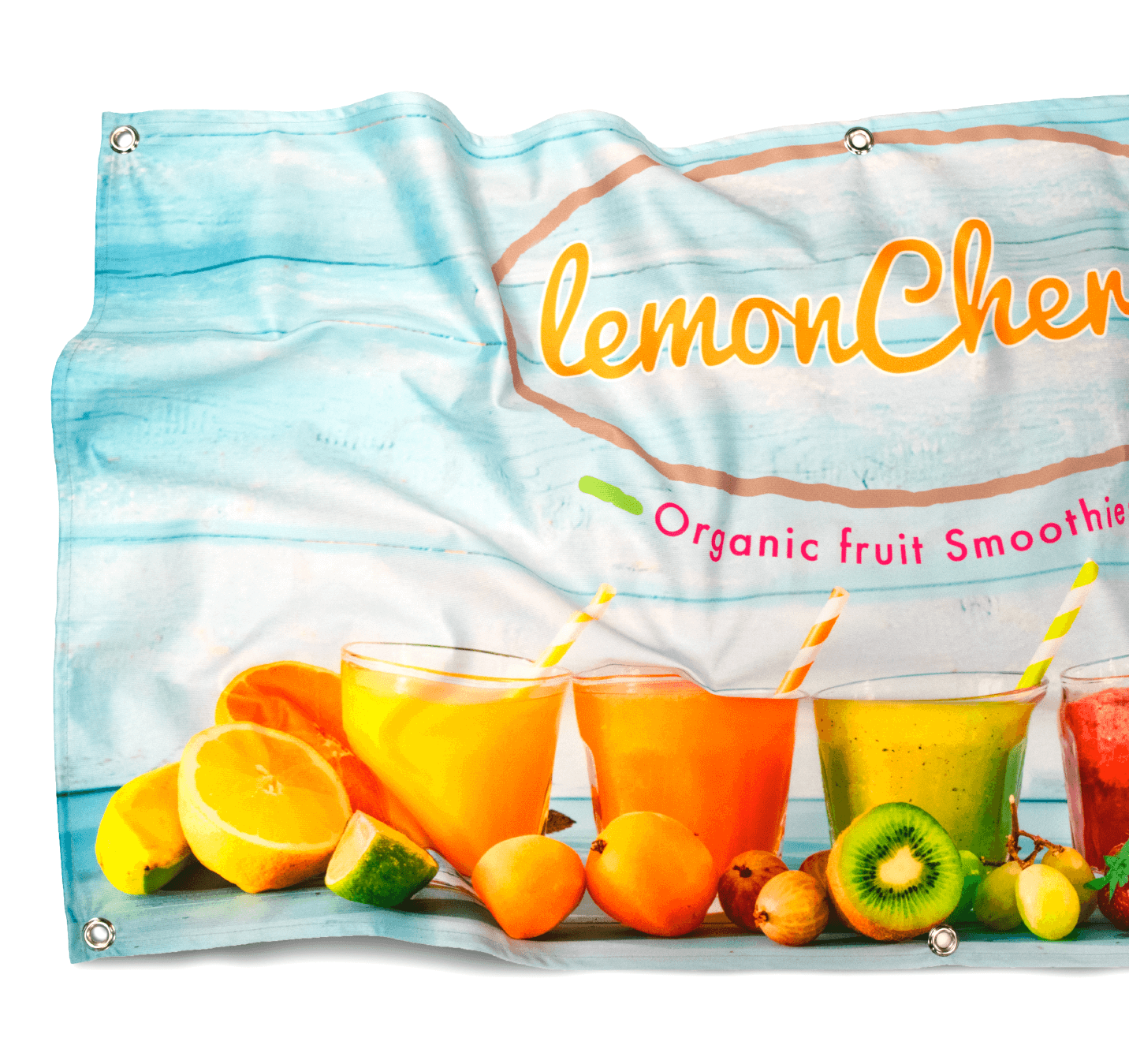 Versatile Display Options
Hem: Each fabric banner is finished with a stitched hem, which reinforces the edges of the banner while giving it a clean, professional look. Hems are sewn with white stitching.
Pole Pockets: Include 3" pole pockets on your custom fabric banner to allow it to be showcased in a variety of ways and settings. Pole pockets are available in a top or top and bottom configuration. Pole pockets are sewn with white stitching.
Grommets: Grommets simplify hanging or attaching your fabric banner for displaying indoors. Grommets are an optional addition to the banner and can be placed every 12-18 inches, every 18-24 inches, every 2-3 feet, or in the 4 corners.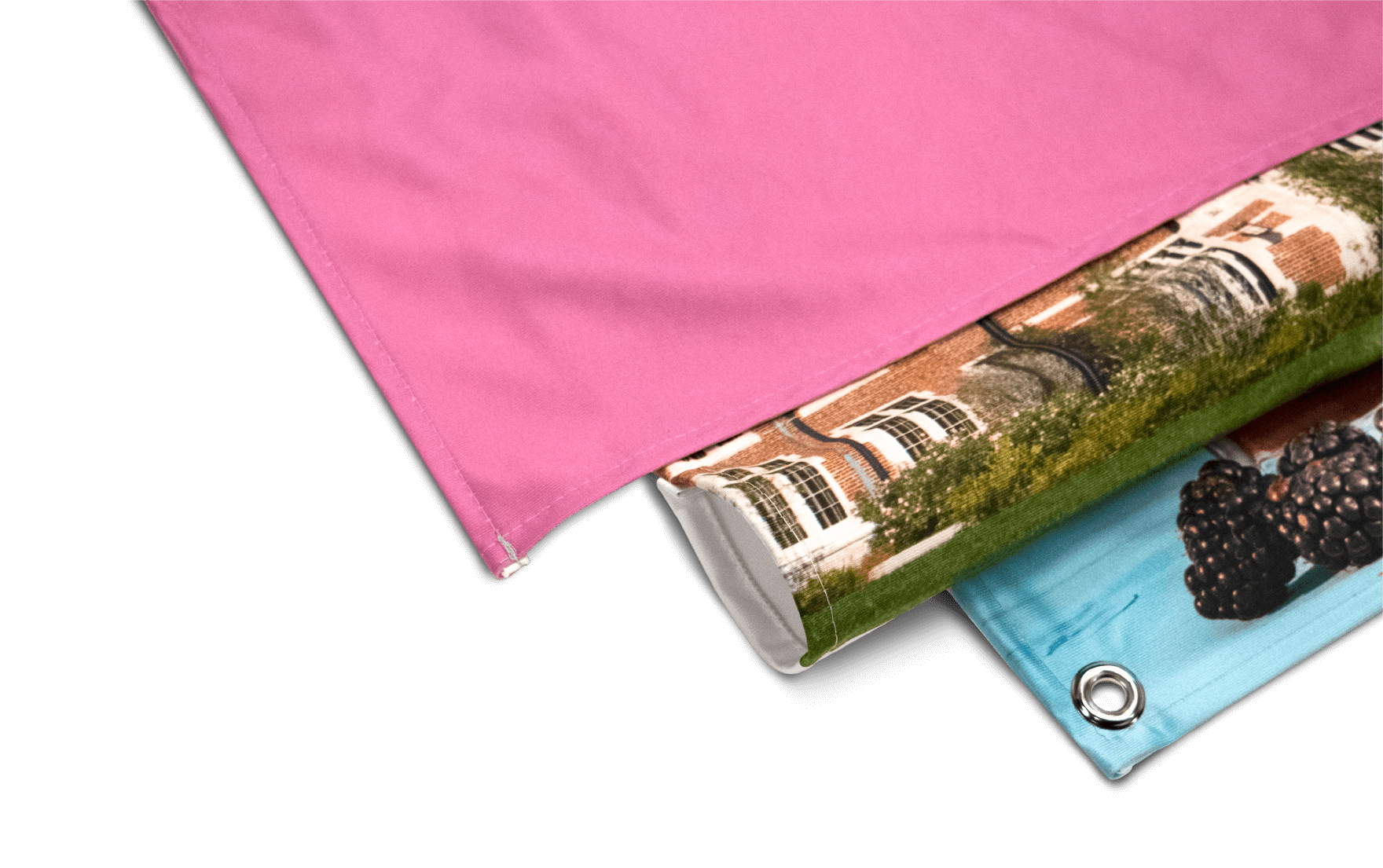 Image Gallery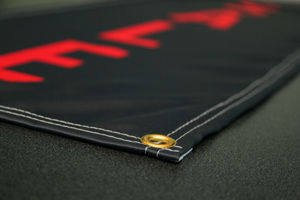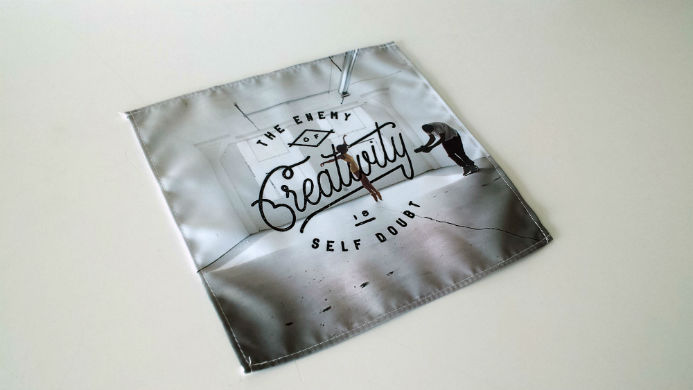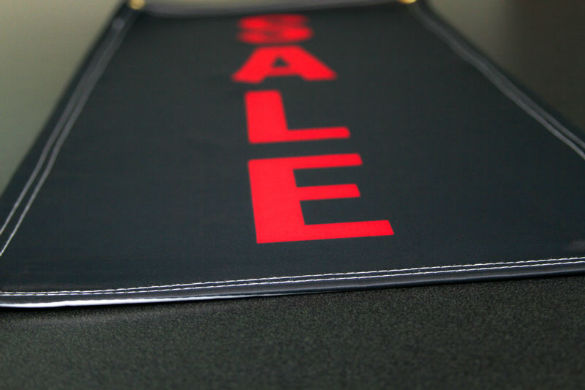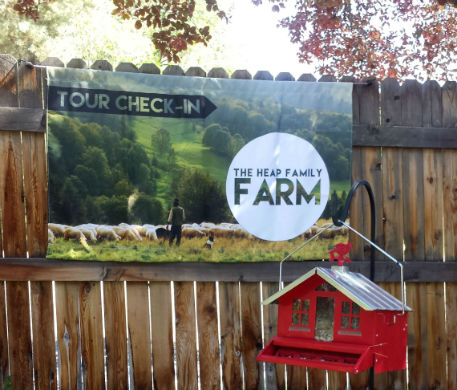 How to Display Your BannerFor fabric banners with grommets, use cords, strings, or bungees to attach the banner to a stationary object, such as poles or fences. For smaller banners, the fabric is light enough to be hung using rope or ribbon for a more aesthetically pleasing look. You can also use screws and washers to install your banners to rigid backgrounds such as wood, walls, or concrete.Pole pockets on your fabric banner allow for simple hanging for indoor displays, booths, and more. Extended outdoor use or display is not recommended for fabric banners due to the potential of irreversible damage to the fabric and color fading when exposed to the elements.

CareTo care for your fabric banner, regular cleaning is recommended. The fabric banners can be machine washed in cold water and on a gentle cycle. Fabric banners should be laid flat or hung to dry. If needed, use a hand steamer to get rid of wrinkles or creases. Do NOT bleach, tumble dry, or iron. To prevent our banner from fading, avoid displaying in direct sunlight.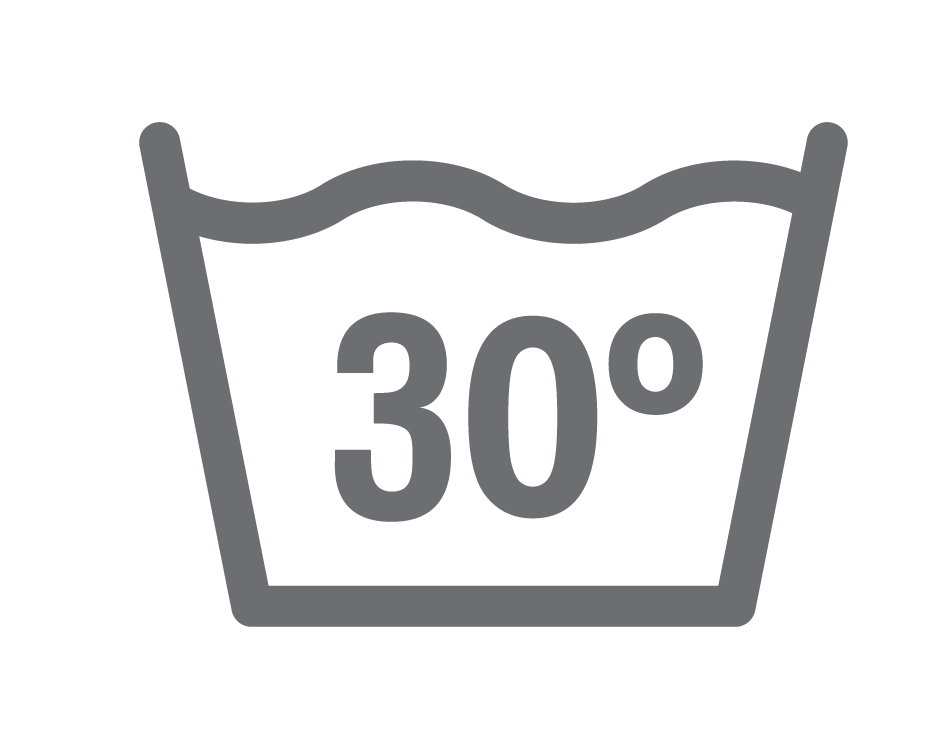 Additional SpecsWeight:.06lbs (about the weight of 6 quarters)Thickness:.02" (about the thickness of 5 sheets of copy paper)Details:9oz. polyester, reinforced scrim, scratch resistant, washable, water resistant, multi-use.Uses:Interior use only, or short-term exterior use. Business sales, promotions, or in-store displays, tradeshows and conventions, fairs, welcome home and happy birthday parties, other personal usesPrint Method:Dye-sublimation process, eco-friendly, weather, fade and abrasion resistant inkEstimated Lifespan:3+ years for indoor use; 1 year for extended outdoor use
Why Signs.com?

Next Day Production
Order by 5PM EST and we'll have your fabric banners completed and shipped the next business day.
Free Shipping over $75*
For fabric banners or orders over $75 your order ships free! *Excludes rigid signs over 36″ in either dimension. Contiguous U.S.

100% Satisfaction
Winners of numerous customer service awards, our customer experience team keeps you as their number-one priority throughout your entire experience with Signs.com.
Frequently Asked Questions
Product Specs
How do fabric banners differ from standard vinyl banners?
Fabric banners are made from 9 oz. polyester fabric while standard vinyl banners are made with a plastic, 13oz. PVC material that is ideal for outdoor use. Vinyl banners are created from the same material billboards are made of. The advantage of fabric lies in the fact that you can install it stretched to remove any wrinkles which allows for easy transport since you can fold or roll it without worrying about creases. Fabric can also create a higher quality look than a vinyl banner.
Do I have to use one of your templates for my fabric banner?
Templates are created for your convenience, but by no means do you have to use them! If you'd like something different, you have three additional options. First, you can choose the blank template and start designing from scratch on our design tool. Second, you can upload your own files to make a banner. Lastly, you can always use our free design services to make sure you get exactly what you're looking for.
What is the "Dye Sublimation" process and how does it work?
Dye Sublimation (or dye-sub, for short) is a common way of printing on various fabrics, and is used by printing companies around the world as a quicker and more cost effective alternative to screen printing on fabric. The design of your fabric banner is printed in reverse on a heat transfer paper. Once it is printed, both the paper and the polyester fabric go through a heat transfer machine that acts like a large iron, transferring the image from the paper directly to the fabric. This actually dyes the design into the fabric creating a durable high-quality look that can also be easily cleaned.
Do fabric banners have the ability to stretch?
While they don't have the stretchiness of a tension fabric, our fabric banners can be stretched slightly. For the longevity of the fabric, it is best to keep stretching to a minimum. Extended stretching can tear at the microfibers and damage the weave of the banner.
How thick are the fabric banners?
Our fabric banners are 9oz. polyester. In our experience, 9oz. fabric is useful in most indoor situations and can be used outdoors for short-term events. Since the threads are so tightly woven, fabric banners hold ink very well and create a beautiful image.
Can fabric banners be double sided?
At this time, Signs.com does not offer double-sided fabric banners.
Do you print in one color or full color? Does full color cost more?
All of our fabric banners are printed using the dye-sublimation process in full color. If you only need one color, that's just fine. Printing in full color or one color does not affect the price of the banner.
What is the minimum and maximum size I can make my banner?
Signs.com does not allow fabric banners smaller than 8" x 8" inches, however we recommend printing banners no smaller than 24" x 12" for visibility reasons. If you need something smaller, we recommend using another sign material like rigid plastic signs or aluminum. The maximum size for fabric banners is 115" x 1200" inches. If you need a fabric banner that is larger, please make a custom quote request. Large fabric banners require additional production time for sewing and hemming processes.
Will my large fabric banner have seams?
No, because we are able to print up to 115" x 1200" inches. However, if your banner is larger than 115" x 1200", we may have to add a seam at that point.
Can I change the number or spacing of grommets?
We offer five different options for grommets on fabric banners. As a standard option we can put grommets on all four sides every 2'. We can also provide grommets approximately every 2' on the left and right sides, or approximately every 2' on the top and bottom of the banner. We can also put the grommets in each of the four corners only. Lastly, you can also request no grommets by simply deselecting the option on the design tool or in the cart. Please note that we are unable to offer custom grommet placement beyond these five options. We also can't change the actual grommet size.
What is the estimated lifespan of fabric banners?
Our fabric banners have an estimated lifespan of one year if they are used outdoors and 3+ years if they are used exclusively indoors. After one year of extended outdoor use, the ink on the fabric may begin to fade due to exposure to the elements. If you are looking for a longer-lasting outdoor sign, we suggest using vinyl banners or aluminum.
Should I be concerned about the fabric ripping or tearing?
Without a doubt, fabric banners are able to be damaged without proper care. Be sure to keep the fabric away from things that could rip or tear the banner. The fabric banners, however, are scratch resistant, so there is no problem using the fabric as a table cloth.
Fabric banner pricing is great – what's the catch? Is it too good to be true?
Fabric banners are some of the most affordable signage options available on the market. We are able to give the pricing we do while maintaining our quality because of the large amount of work we put through every day. It allows us to receive bulk pricing on raw materials that smaller companies can't get. This allows us to give you incredible pricing without compromising our quality standards. Of course, if you are not completely satisfied with your fabric banner or any product from Signs.com, we have a 100% satisfaction guarantee to make sure you get exactly what you want.
Usage
Can I use my fabric banner outside?
While the fabric banners do work outside, we don't recommend using your fabric banner outside for an extended period of time. Weather elements tend to damage fabric banners quickly. However, for a one-day outdoors event, fabric banners work just fine. If you're looking for a more permanent outdoor banner solution, take a look at our custom vinyl banners, which have a longer outdoor life.
I'm going to a trade show – will these banners work? Do I have to get grommets? If not, how do I hang it?
Our standard vinyl banners are intended to be hung with rope, bungee cord, zip tie or even a hook. We also offer our fabric banners with pole pockets in the top or bottom of the banners. If you are attending a trade show and are looking for retractable banners that come with a stand and a carrying case, contact us for a custom quote.
Will my signs fade or scratch?
The dye-sublimation process we use to print will prevent the actual printing from fading or being rubbed off over time. The fabric is scratch resistant, however it is not tear resistant. In daily use, be wary of any sharp objects. Whether inadvertently or intentionally, sharp objects can and will damage the fabric.
What are typical uses for fabric banners?
Fabric banners are used in a variety of ways. They can be used as a tablecloth for a tradeshow or convention. Some use them for photo backdrops or backgrounds. Since the fabric allows for high-quality printing, fabric is great to use for closely viewed signs, like behind point-of-purchase displays or near in-store displays.
Do you sell banners with pole pockets? What should I know about pole pockets and the ordering process?
Yes, we sell fabric banners with pole pockets. Pole pockets are designed as part of the original process of ordering your banner to build in sleeves for poles that will be used to display your banner. Pole pockets can be placed on the top and bottom of the banner, on the left and right of the banner, or on all four sides. In addition, pole pockets can be placed on one side of the banner only. Please be sure to select the "Pole Pockets" option and leave a comment about where you'd like the pole pockets to be placed during the checkout process. Unless specified, standard 3" pole pockets will be placed on the top and bottom of the banner. Please note that the actual poles are not included and we do not currently sell them.
Installation & Care
How do I hang my fabric banner?
Fabric banners are incredibly versatile and can be installed in a variety of ways. Use cords, strings or bungees to attach the corner grommets to a stationary object, such as poles. The fabric is light enough to be hung using rope or ribbon for a more aesthetically pleasing look. You can also use screws and washers to install your banners to rigid backgrounds such as wood, walls, or concrete. Fabric banners with pole pockets can easily be hung by sliding a pole or a rod through the pre-sewn pole pocket.
Do I need to clean my sign? If so, how and how often?
Cleaning your sign regularly will keep it looking fresh and professional. Fabric banners can be machine washed on cold and on a gentle cycle. Fabric banners should be laid flat or hung to dry. Use a hand steamer to get rid of wrinkles or creases. Do NOT bleach, tumble dry, or iron. Doing so can result in permanent damage to the fabric.
How do I store my signs?
Your signs can be stored in a dry location at room temperature. We would recommend rolling the sign with the print side facing out, if possible, to prevent wrinkling or creasing.
My fabric banner is wrinkled/creased. How do I remove the wrinkles?
After shipping or storage, fabric banners can have unsightly wrinkles or creases. To remove the wrinkles from your banner, use a hand steamer and the wrinkles should come right out. If you install or display your fabric banner tightly stretched, the wrinkles and creases will also go away.