Breakaway Banners
custom sizes ● durable ● reusable ● ships next day
Showcase your team pride with affordable and fully custom football run through banners that will last for years to come!
What Are Breakaway Banners?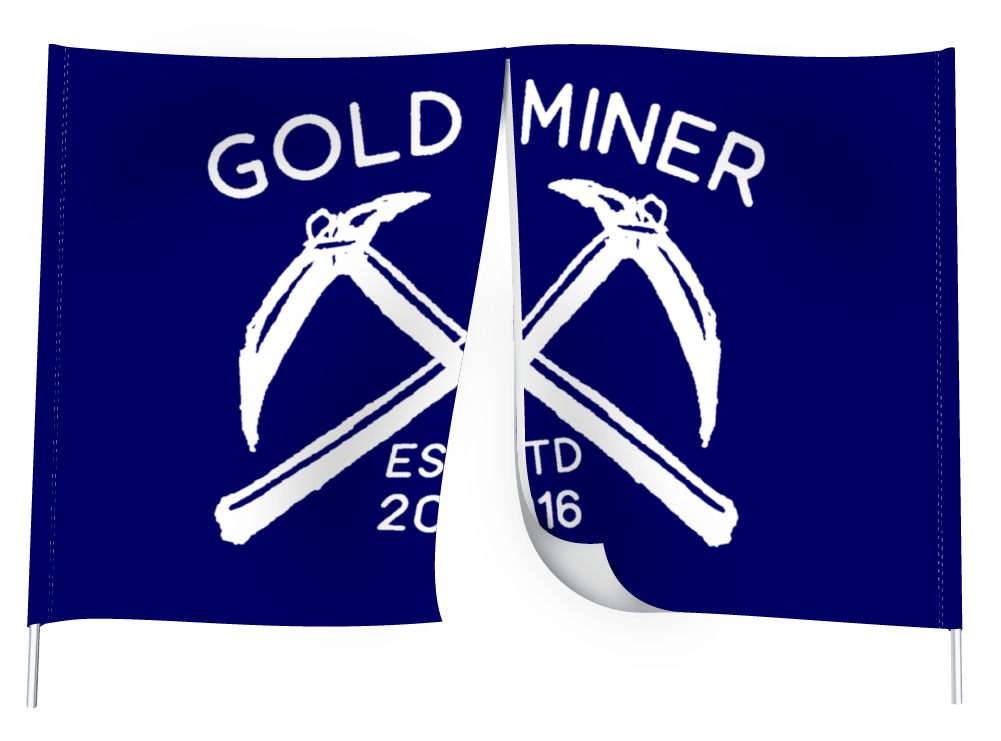 Breakaway Banners are custom printed banners with velcro down the middle to attach two banner pieces to make one cohesive image. With poles on either side they are most commonly used at youth, high school, and college football games. Parents or cheer team members hold the poles on either side while the velcro strip allows the team to run or break through the banner as they run onto the field.

The banners are made from a durable 13 oz. vinyl making it the perfect choice for football game entrances. Breakaway banners are 100% customizable, reusable, and durable enough to last multiple seasons while still giving you the custom look you need.
Standard & Custom Sizes Available
We offer our breakaway banners in any custom size so you can get exactly the banner you need. Banners can be ordered in any custom size between 2'H x 6'W & 10'H x 15'W.

Breakaway Banner Features
Pole Pockets
Each break through banner comes with two sewn pole pockets, one on either end of the banner. These hemmed pockets are a strong but simple way to set up and hold your banner during use.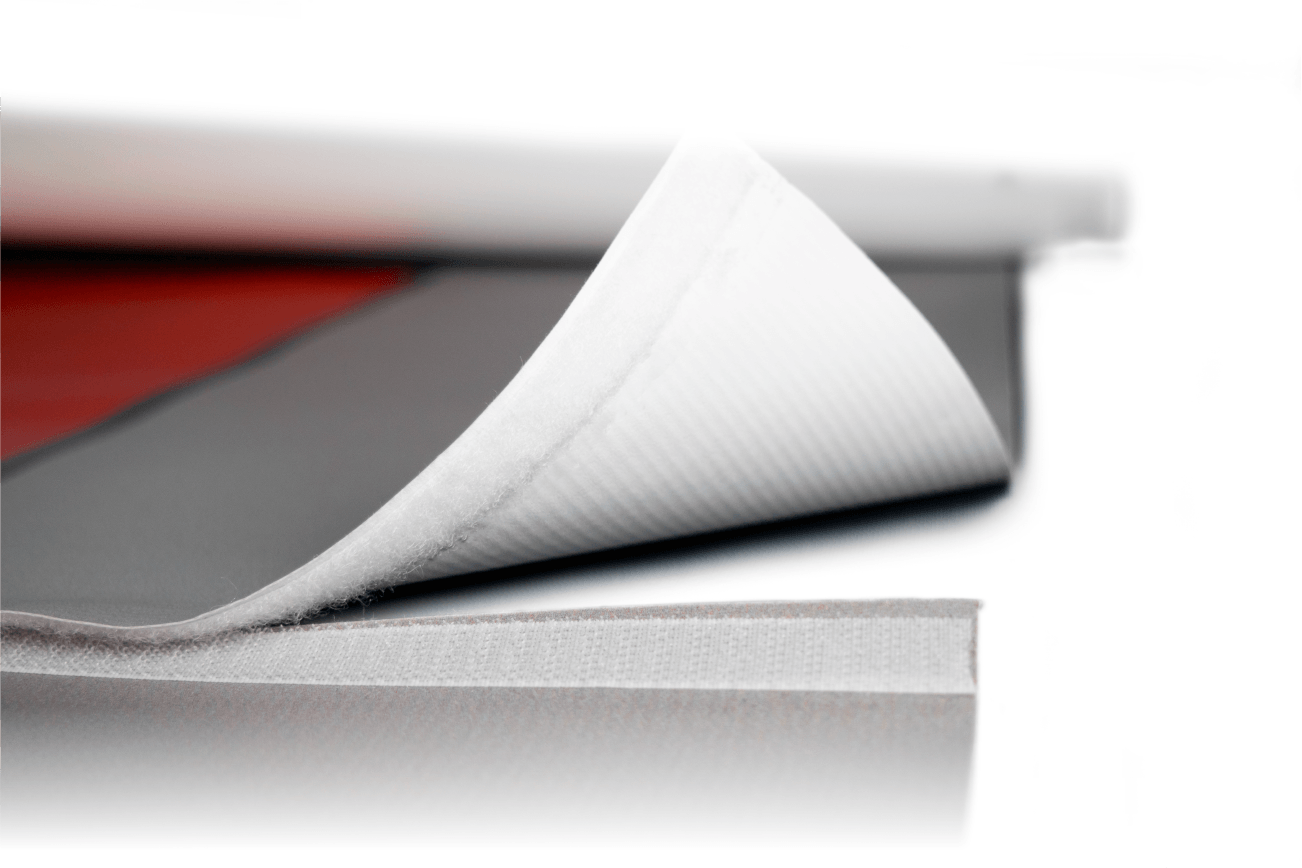 Durable
Breakaway banners are meant to be run through and are durable enough to withstand repeated entrances of a football team. Our 13 oz. vinyl is the perfect material for games regardless of the weather conditions.
Reusable
With velcro patches down the middle of your banner weekly use over a number of years it as easy as it gets. In between games or seasons the banners are easily cleaned and stored to be used for future seasons.
Additional SpecsWeight:0.083 lbs. per square footThickness:13 oz. vinylUses:Football games, basketball games, other sporting events, college & high school activities.Print Method:Digitally printed UV inkEstimated Lifespan:3+ years with proper use, care, and storage.Common Sizes (WxH):12'x4', 10'x6', 12'x8', 14'x10
Assembly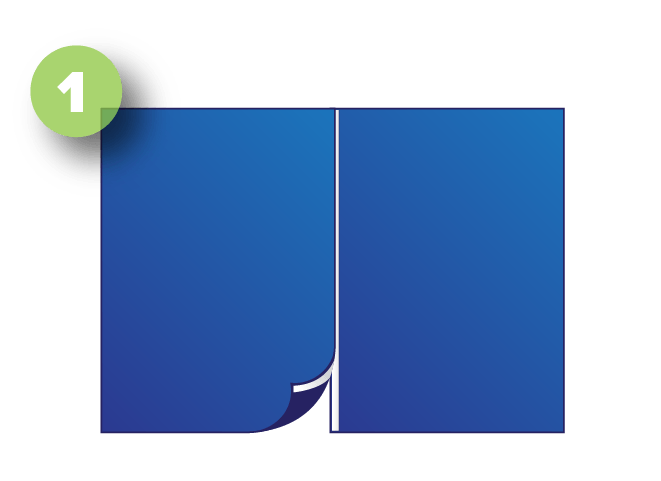 To set up your breakaway banner begin by laying the two banner pieces flat on the ground. Avoid any abrasive surface like concrete or asphalt when doing so. Attach the two banner pieces together with the corresponding velcro strips that run down the middle of each banner piece.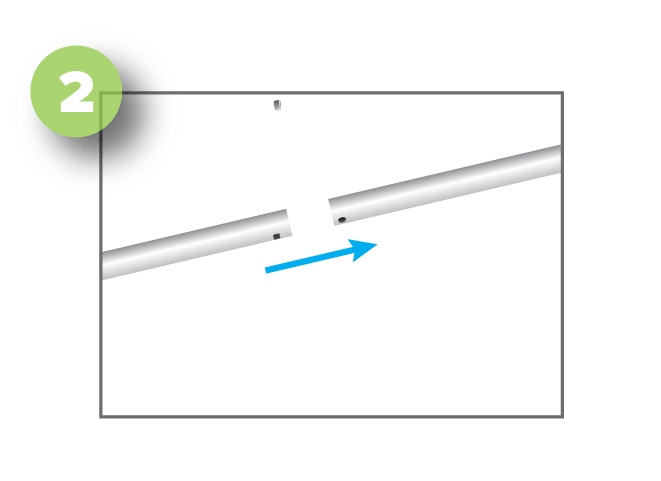 Assemble the poles using the push buttons and connecting the female and male ends of the poles.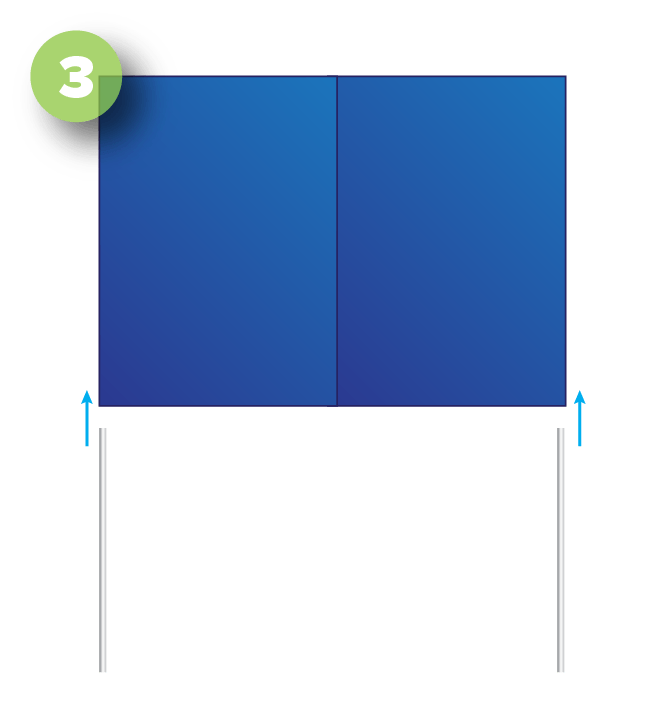 Once the velcro is attached, slide the assembled, compatible poles (optional purchase if poles are needed) into the pole pockets on each end of the banner.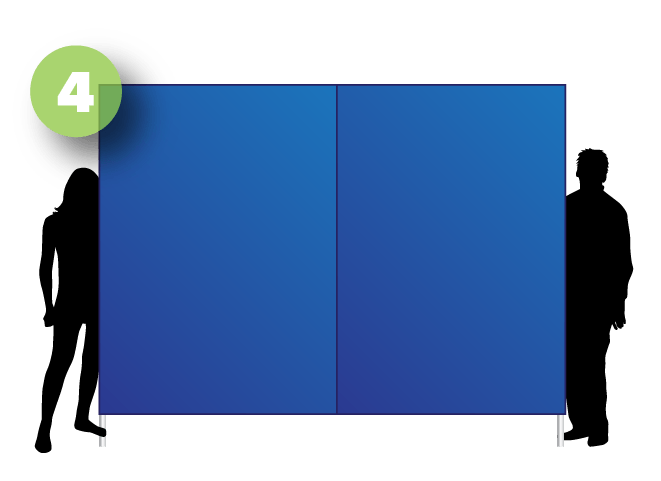 Finally, stand the banner upright. Doing so typically requires multiple people depending on the size of the banner. To prevent the banner from sagging in the top center, pull the very top of each pole towards the outside of the banner to increase tautness.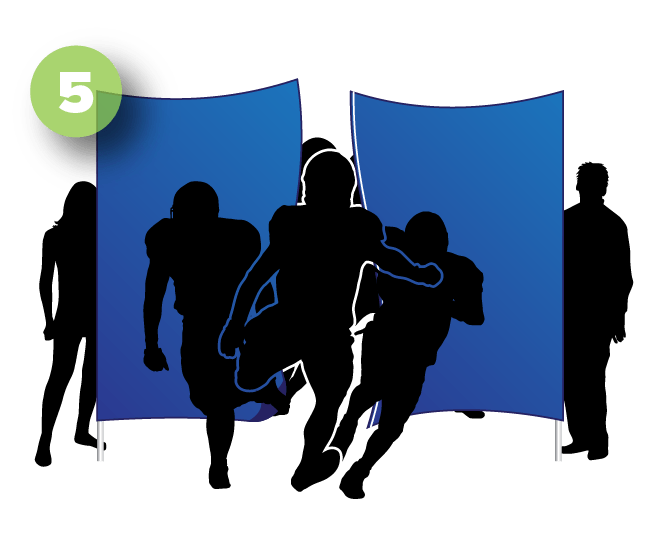 Once the graphic is pulled tight you'll be ready for a football team to run through the banner and begin their game!CareTo clean your banner simply wipe it down with a non-abrasive cloth dampened in a mixture of warm water and dish soap. Let the banner air dry. When storing the banner be sure to roll it up to prevent permanent creases from occurring. Avoid contact with sharp objects or placing anything on top of the banner. Make sure to store it in a cool, dry environment away from sunlight and weather exposure.
PolesIf you don't already have poles (should be diameter of 1" or less) to use with your breakaway banner you'll need a set of compatible poles to slide into the sewn pole pockets on either end of the banner. We offer compatible aluminum poles as optional accessories for your banner. We recommend our aluminum poles due to their lightweight yet durable nature. These poles are easily connected together via a push button and locking mechanism. Each pole section is approximately 36" long. We recommend ordering enough poles to have at least 1' of extra pole length than the height of your banner so it can be held off the ground if desired.

Related Products
Spirit Flags
Senior Sports Banners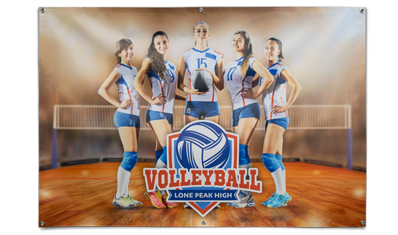 Sports Team Banners
Next Day Production

Order by 5PM EST and we'll have your breakaway banner completed and shipped the next business day.
100% Customizable

Colors and design specific to your team or logo.
100% Satisfaction
We guarantee you'll love your custom breakaway banner. If you don't, we'll be sure to make it right.
Frequently Asked Questions
View all FAQsProduct Specs
What are breakaway banners made of? Do you offer any different materials?
Breakaway banners are made from 13 oz. vinyl. This material allows your design, logo, or other graphics to be printed in high resolution on a durable material. We've found vinyl to be the best option for breakaway banners and much better than fabric or other materials due to its regular outdoor use. 13 oz. vinyl allows banners to be reused over many years while still looking as good as ever. Because of this we do not offer any other materials for custom breakaway banners.
What's the difference between breakaway banners and breakthrough or run through banners?
Breakaway banners and breakthrough banners are not only interchangeable but synonymous with a long list of terms including: run through banners, football run through banners, break through banners, bust out banners, and tear away banners. Although all of these names are slightly different they all refer to the same product. This product is most commonly used for youth and high school football games where the players on the team run through the banner at the beginning of a game. So while we (or you) may use varying terms, rest assured we're talking about the same thing!If you are looking for other types of banners we offer, you can find them here: standard vinyl banners, mesh banners, pole banners for cities and streets, fabric banners and retractable banners for events, presentations, trade shows, and other uses.
How thick are breakaway banners? Do you offer any other thickness options?
Breakaway banners are made from 13 oz. vinyl. This thickness allows for the banner to be light enough for a cheer team or parents to hold up while still giving it enough durability to be used repeatedly over a number of years. Because of these reasons we don't offer the breakaway banners in any other materials.
Can I get a double-sided breakaway banner?
Breakaway banners are meant to be run through from one side to the other. Since one side isn't shown during use it isn't necessary to print on both sides. Thus, they are only available as single-sided banners.
I need help designing my breakaway banner. Can you help me?
Yes, we can! Our design tool makes designing your breakthrough banner quick and easy. In the design tool you have the ability to upload your own design, images, and files or create a design from scratch. You can also add text, clipart, and colors to your design. If you need help with your design you can also take advantage of our free design services via our team of professional graphic designers.
Will my breakthrough banner have a cohesive design? Do both portions of the banner need their own separate design?
When designing your breakthrough banner you should factor in the velcro strip that will run vertically down the middle of the banner. This velcro attaches the two portions of the banner together to create a continuous design. By simply designing on our design tool or uploading your file as if you were doing a regular banner you should be just fine. The design tool will show where your pole pockets and velcro strip will be. Our production team and process will ensure that the corresponding velcro strips on either side of the two pieces will attach and make the fact that there are two pieces indiscernible from a distance.
How are the two pieces of run through banner connected? Is this the only option to attach the banner pieces together?
Breakaway banners are connected by a ½" wide velcro strip that runs down the middle of your run through banner. By using velcro to attach the banner together you'll be able to reuse the banner multiple times rather than a one-time use paper run through banner. The thickness of the strip of velcro has been tested to ensure that is durable enough to hold your banner together and be used for years to come but not so strong that it will prevent players from being able to crash through it.
Other companies offer a run through banner that is cut or slit ¾ of the way up the middle of the banner. Why don't you do it this way?
We've found the velcro strips on the two separate pieces work the best for players bursting through the banner at full speed. When the banner is cut ¾ of the way up it creates not only the potential to tear but a less cohesive image and more difficulty in storing and using your banner. We're 100% confident that you'll love your custom run through banner.
What printing method is used for your breakaway banners?
We use our state-of-the-art digital printers and high resolution UV ink for a printing process that creates vibrant, high quality breakaway banners.
Can I print a breakaway banner with a multicolor design?
Yes! You can design your breakaway banners using as many colors as you'd like. Our design tool is simple to use and you can choose from our color palette to get the exact look you're looking for. We also don't charge you for using more than one color or any number of colors. We print all of our custom signs in full color!
Will the printed side of my breakaway banner rub, fade, or scratch off?
Because our breakaway banners are printed with fade and abrasion resistant ink your graphic should remain vibrant for years of use. To avoid scratches from occurring avoid contact with sharp or abrasive objects during both use and storage.
What is the minimum size breakaway banner you offer? What's the maximum size?
We offer custom sized breakaway banners anywhere between 6'W x 2'H as the minimum size and 15'W x 10'H as the maximum size.
What are the most common sizes for breakaway banners?
The most common sizes for breakaway banners are 12'W x 4'H , 10'W x 6'H, 12'W x 8'H, 14'W x 10'H.
Will my breakaway banner have seams?
Breakaway banners are technically two separate banners that are attached together with a velcro strip down the middle of each banner. When standing close to your breakthrough banner you'll be able to tell that one side's velcro attaches to the other. From a distance it will look like one seamless banner that allows your design to stretch across both parts and yet have your football team run through it when entering the field. Outside of where it connects in the middle there will be no seams on either of the separate pieces of your breakaway banner.
Do you offer grommets for your breakaway banners?
Because our breakaway banners come with pole pockets for use we don't offer grommets as an option for these banners.
What finish do breakaway banners have? Do you offer any other finishes?
Breakaway banners are created with a 13 oz. vinyl that has a matte finish and a flush edge. We don't currently offer any other finishes or edge options at this time.
Can I get a unique or custom shaped breakaway banner?
Breakaway banners are customizable in rectangular and square shapes between 6'W x 3'H and 15'W x 10'H. Breakaway banners do not have the option of being contour or halo cut as do some of our other signs.
Can I get a blank or white breakaway banner?
If you'd like to get a blank or white breakaway banner you can do so by selecting white as the background color in our design tool. However, we are a custom signage provider and are able to print your custom design on the banner instead of placing decals or vinyl lettering onto a blank banner material. Using permanent marker to draw on the banner where it is blank or printed on may not result in an aesthetically pleasing banner and voids any satisfaction guarantee.
How do the pole heights work?
All of our breakaway banners come with 2" pole pockets that are sewn top to bottom on the outside edges of your banner. These pole pockets are compatible with poles that are 1" and under in diameter. The optional poles we offer are 1" in diameter. We offer different pole heights depending on the height you choose for your breakaway banner. The pole heights we offer are 36", 69", 102", and 135". Each pole comes in sections that are 36" in height with 3" being used at each connection.For example, if you ordered a 3' high breakthrough banner for a pee wee football team, then you would receive two 36" poles for either side of the banner. If you needed a banner at the maximum height of 10' you would receive 135" poles for each side. Your banner would then rest approximately 2' off the ground and allow the bigger players to run through it.
Can I get a mesh breakaway banner? Can I add wind slits?
We don't currently offer a mesh breakaway banner at this time. We also don't offer wind slits on our banners. In our research we've found that wind slits don't provide much benefit to the lifespan of a banner but do negatively affect the design and appearance of the sign.
What size does my large banner need to be in order to be seen from 'x' distance?
When it comes to the letters on your banner, think big. A general rule is letter height needs to be 1" for every 10 feet of visibility. For example, if your letters are 4" tall, 40 feet is the furthest optimal distance for viewers to clearly read the sign. If you make your letters 15", then the furthest optimal impact distance is 150 feet. Having said this, your sign will still be visible beyond the "furthest optimal distance" and is typically viewable 3-4.5x farther than the maximum optimal distance. For example, 3" letters will be best viewed within 30 feet and will be able to be viewed at a maximum distance of approximately 90'-135'.Other considerations that impact viewability include: where you place your sign, what the viewers will be doing when seeing your sign (walking, driving, standing still), lighting, colors used, design of the sign and your target market's eyesight. Once you choose your letter height, you can determine what size your large banner needs to be to fit your letters, clearly display your message and look good.In a nutshell, our best advice is to think big and simple with your banner and letter size to have the greatest impact. Your team's logo, team name and mascot and/or team motto should be more than enough. If you're still unsure of how big your sign should be feel free to contact us and we'd be happy to help!
Are poles included?
Poles are included by default but do come with a small additional charge. You can also deselect poles if you are buying a replacement banner(s) or if you already have poles. If you choose to include poles with the purchase of your banner a pole bag will be included with your purchase at no additional cost. We're confident that even with the cost of poles you'll find that we are more than competitive with anyone else offering breakaway banners.
Can I use different poles than what you guys offer?
We do recommend using the poles we provide as the best option for your breakaway banners. If you choose to use existing or other poles they need to be no greater than 1" in diameter to be compatible with the banner. Using your own poles does void the satisfaction guarantee as we can't control nor discern if incompatible poles end up causing damage to your banner.
What size of poles are offered? What diameter are the poles? How much do they weigh?
The pole heights we offer are 36", 69", 102", and 135". The height of your pole is automatically determined by the height you choose for your banner. Each pole comes in sections that are 36" in height with 3" being used at each connection. Each pole is 1" in diameter. Each aluminum pole section weighs only .6 pounds. Despite their light weight they are extremely durable and should last for years to come.
How do the poles connect? Are they difficult to assemble?
The poles connect via a push button mechanism and can be assembled in a matter of seconds. They are extremely easy to assemble, take apart and store.
How many poles do I need for my breakaway banner?
You only need two poles for your breakaway banner; one pole for each side of the banner. We automatically determine the size of the poles you will need based on the height of your banner. If you have questions please don't hesitate to contact us.
Can I get standalone poles?
Standalone poles are not something that we offer at this time. Assuming your poles are under 1" in diameter they should be compatible with the breakaway banner. Though we do strongly recommend using the poles we provide. If you are looking for standalone poles please contact us to see if it is possible to find a solution for you.
How do I set up the poles?
Before sliding your poles into the pole pockets on the breakaway banners you'll need to put them together. To assemble your poles begin by taking two poles sections and slide the end with the button into the opposite end of the other pole. To completely slide a pole into another pole you'll need to press down the button and slide it into a locking position where a hole is located on the other pole. Locking the button into this hole will secure your two poles together, creating a longer but sturdy pole that will not come apart during use. Continue this process with any additional poles that may be included. Be sure to assemble two equal length poles, one for each end of your breakaway banner, to ensure you can correctly hold your banner in place for your team to run through it.
Display & Care
How do I assemble or use my breakaway banner?
Breakaway banners are easily assembled and can be up and ready for use in just a few minutes. To set up your banner begin by laying out the banner sections flat on the ground. Be sure to avoid abrasive ground surfaces like concrete or asphalt as this can damage the banner. Rather, choose a soft surface like grass or carpet to lay them out on with the printed side face up or away from the surface. After the banner has been laid out, connect the two sections together by aligning the velcro strips, one on each banner, and press the two banners together down the middle of the two pieces. Once the velcro strip has been properly aligned and connected you will need to slide poles into the pole pockets that are on each end of the banner. The pole pockets are compatible with poles up to 1" in diameter whether they are your own poles or the poles we offer as additional items to your banner order. Gently slide compatible poles into each of the pole pockets until the pole reaches the top of the pocket (it is closed at the top so the poles don't slide out during use). Once the poles are installed you may stand the banner up by lifting from either side at the same time.. Be sure that you have the help of additional people as you set up and use your breakaway banner. More than one person is required to use a breakaway banner. To ensure the proper appearance of your banner as people run through it make sure that the banner is pulled tight without any slack. If the banner begins to sag in the top center have someone pull outward on each pole top. Depending on the height of your banner they might need to stand on a stable chair or ladder to do so. Those holding the banner should be prepared for the a small jolt or loss of tension once the players break through the banner. This is most important to understand for those holding the top of the banner on either side, especially if they are standing on a chair or table to reach it.
My breakaway banner is wrinkled. Can I remove the wrinkles?
Sometimes during shipment or storage your breakaway banner may have some slight wrinkling occur. These small wrinkles aren't permanent and can be easily removed. To remove the wrinkles simply lay the banner out flat on the ground during a warm sunny day and the heat from the sun will remove the wrinkles.
How do I take care of the velcro strips? Should I avoid any surfaces?
To ensure that your breakaway banner's velcro strips maintain their adherence on either side be sure to avoid contact with anything like plants, strings, rope, fabric, and other items that might try to attach to the velcro. If your velcro strips attach to anything other than the opposing velcro be sure to check that no residue is left on the velcro. If anything sticks to the velcro promptly remove it. Keeping the velcro clean will help maintain the ability to attach your banner together.
How do I clean my run through banner?
During use your run through banner may experience normal wear and tear and even accumulate some dirt or grime. To clean your banner simply take a damp microfiber or non-abrasive cloth and soapy warm water mix and wipe the banner down. Doing so should remove any light dirt or dust. Once the banner has been wiped down you should let it air dry. Machine washers or dryers will cause permanent damage to the banner.
What's the lifespan for a run through banner?
With proper care, usage, and storage you should expect to get 3+ years of use out of your banner.
How do I store my breakaway banner?
To store your breakaway banner begin by cleaning or making sure that the banner is clean and dry. We recommend you store the banner with the velcro pieces attached together. After connecting the strips roll the banner material up with the printed side facing inwards to protect the graphics. Store the rolled up banner(s) in a cool, dry location away from sunlight and exposure to weather elements. Avoid placing anything on top of the banner during storage. Avoid contact with sharp or abrasive objects that may damage the banner material as well.
Do your breakaway banners come with a carrying case?
Our breakaway banners don't come with a carrying case. However, if you choose to add optional poles to your order you can also add an optional carrying case for the poles.
Usage
What are some typical uses for breakaway banners?
By far the most common use for breakaway banners is for football game events like pregame and halftime shows during high school and youth or pee wee football games. Beyond this, they can also be used in pep rallies, fundraisers, and other festivities. They can also be used in other sporting events like basketball, lacrosse, rugby, etc.
How many people do I need to use a breakaway banner?
Multiple people are required to completely assemble and use a football run through banner. The amount of people you will need to use a banner will depend on your individual circumstance, the people helping you, and the size of the banner. In most cases two people are sufficient but you may need four or more for very large banners. Cheerleaders, cheer squads, parents or school staff can all easily assemble, use, take apart and store the breakaway banners with no prior training or expertise needed.
Will my breakaway banner tear or rip when people run through it?
Breakaway banners are made from durable vinyl that is resistant to tears and rips. The material is connected by velcro strips that firmly adhere to each other and are designed to withstand repeated use of football teams running through the banner.
How fast can people run through the banner? Will running too fast ruin the banner?
Breakaway banners are designed for adults to be able to "break through" the banner. Running through the banner is something that should be expected in use and shouldn't result in damage provided the banner has been properly cared for and maintained.
Are there any precautions to using a breakaway banner to prevent injury?
When running through a breakaway banner we recommend doing so with safety in mind. Properly instruct those running through the banner to watch out for each other as well as the banner itself as they run through it. Instruct football players to avoid bumping into one another or stepping on the banner as these may both result in people falling and potentially injuring themselves and/or others. The banner is easily separated and excessive force isn't necessary. Further, and as explained above, ensure those holding the banner anticipate the loss of tension when the banner breaks. So long as they are aware of this they can ensure they do not lose their balance when the players break through. Excepting human error, there is very little risk of injury while using these banners.
Are breakaway banners weather resistant? Will they fade in sunlight?
Breakaway banners are printed on durable vinyl and printed with UV safe ink for use during inclement weather football games or bright sunny days for years to come.
Can I use my breakaway banner in warm and cold temperatures?
Yes! Our breakthrough banners are designed to be used for any occasion. Rain or shine, spring or summer, fall or winter, these banners are a great option for your event. Please note though that during colder weather the vinyl banner material will become more rigid and less flexible.
Can I use my breakaway banner indoors and outdoors?
Yes! Whether your event is indoor or outdoors your breakaway banner is suited for the occasion.