Designed as small-ish vertical banners, these can add impact for your message in places that are sure to be noticed by pedestrians and drivers alike, or, if a larger size is selected, used when marching in parades.
Custom Pole Banners
durable
●
double sided
●
next day production
What are Pole Banners?
Pole banners are displayed between two poles on a lamp and light posts on main roads, boulevards and avenues in cities and on campuses. They are most commonly used for seasonal promotional around events including City celebrations, the 4th of July, parades and rodeos, Thanksgiving, Christmas and more.100% CustomizablePole banners are 100% customizable so you can get the exact colors and design you want. If you need help creating the perfect look you can take advantage of our free design services.Made from 18 oz vinyl, these banners result in high resolution, waterproof, and UV safe graphics that are perfect for all seasons of outdoor usage.
Multiple Sizes AvailableWe offer our pole banners in 3 different widths, 18″, 24″, and 30″ with heights available every 6 inches from 24″ to 96″. Please contact us if you need a custom height between 24″ and 96″.You can also order 2 pole banners and hardware kits for a dual banner look on a single pole.Hemmed Pole PocketsThe standard hemmed pole pocket size is 2″ and allows for poles up to 1 1/4″ to be used. Banners with pole pockets of 3″ and 4″ are available as replacement banners that do not need a hardware kit.Weather ResistantRain or shine, summer or winter, these banners are waterproof and UV safe that make them perfect for extended outdoor use no matter the climate.GrommetsBrass grommets are included for no additional charge on all four corners of your banner allowing you to more securely install your banner with a zip-tie.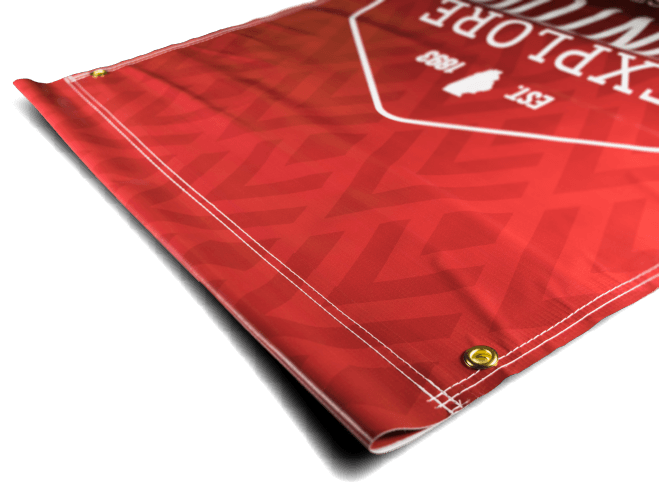 HardwareA pole banner isn't complete as a signage solution without compatible hardware! Our pole banners (2" pole pockets only) come with an optional hardware kit that includes the following:Poles – Two Fiberglass poles with endcaps that are strong and durable for extended use.Brackets – Two mounting brackets with accessories that are rust resistant and sturdy. Accessories include two pins with keychains that help secure the pole and two threaded screw for securing the grommeted banner to the mount with zip ties.Steel Bands – Four steel sands that are rust resistant and adjustable to 47″.
To allow for separate banner purchases the hardware kit is an additional option for banners with 2″ pole pockets. 3″ and 4″ pole pocket banners do not include the option of a hardware kit at this time but can be purchased as stand-alone banners.
Pole Pocket Sizing ChartThe standard banner with 2″ pole pockets will accommodate poles up to 1 1/4″ in diameter. If you have the hardware already installed and only need banners with larger pole pockets we also offer 3″ and 4″ pole pockets. The pole diameters accommodated by these larger pole pockets are summarized in the table.
| | | | |
| --- | --- | --- | --- |
| Pole Pocket Size | 2″ | 3″ | 4″ |
| Pole Diameter | up to 1 1⁄4" | 1 1⁄4" to 1 13⁄16" | 1 13⁄16" to 2 7⁄16" |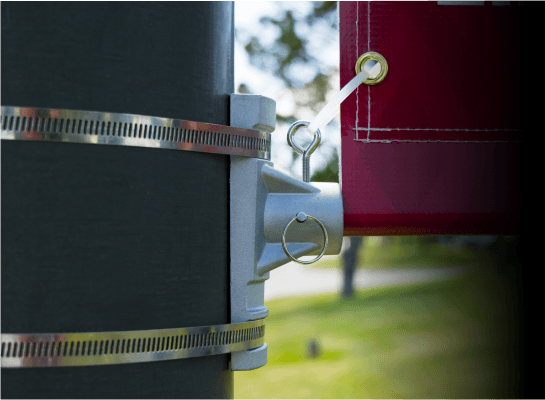 InstallationTo install your pole banner start by attaching the mount to the desired pole with the steel bands. Once the hardware is installed, slide the fiberglass arms into the banner and the mounts on the pole. To finalize your installation slide the pin with keychain through the holes to ensure the poles do not come off. Lastly, hand tighten the threaded screws and secure your banner using zip-ties through the grommets in the two corners closest to the pole mount.
Additional SpecsWeight.09 lbs. per square foot (18 oz. vinyl)Thickness.0156 inches (about the thickness of 4 sheets of copy paper, based on 18 oz vinyl)UsesOutdoor, Indoor, Street Poles, Lamp/Light Posts, Cities, Schools, Colleges, Holidays, Parades, Rodeos, Tourism Promotion, Museums, Festivals, Car Dealership, etc.Print MethodFull Color, DigitalEstimated Lifespan3+ years based on weather exposure
Dual Banners
Looking for more than one banner for a dual banner look? Simply customize your banner and make sure to select a quantity of two. You'll then have a banner for both sides of your pole. Please note that this is currently only possible with our 2″ pole pocket banner as 3″ and 4″ pole pocket banners do not currently come with a hardware kit. If you have existing hardware and simply need banners, regardless of the pole pocket size, simply order two banners of whichever size you need.
Why adkeybd.com?

Next Day Production
Order Today. Ships Tomorrow.

Customer Experience
Easy, Fast, Award-Winning

100% Custom
Colors and Design Specific to Your Banner
Reviews
Frequently Asked Questions
View all FAQsProduct Specs
What are pole banners made of? Do you offer any other materials?
Our pole banners are made from 18 oz. vinyl. We've found that vinyl is the best material for outdoor pole banners due to its durability. We don't currently offer any other materials for custom pole banners.
Are your pole banners printed double sided? Is single sided available?
All of our pole banners are printed double sided as we feel that is not only the most common end use but the most effective for delivering your message. We do not currently offer single sided pole banners.
What's the difference between pole banners, street pole banners, lamp post banners, light pole banners, avenue banners, light post banners, and boulevard banners?
We call this product a pole banner but some other common names for the same thing are those listed above. All of these other names are typically used interchangeably and the product is the same. So no matter what term you use it's safe to assume you're getting what we call a pole banner. If you're still not sure don't hesitate to contact us to make sure what we offer is what you need!
What printing process is used for your pole banners?
We print our pole banners using a four color digital printing method. This process allows the printed graphic to be waterproof and UV safe.
What sizes are available for pole banners? Is there a minimum or maximum size?
We offer our pole banners with three different widths, 18", 24", and 30". For each of these widths we offer lengths every six inches from 24" to 96" long (i.e. 18"x24" – 18"x96", 24"x24" – 24"x96", 30"x24"- 30"x96"). The minimum size is 18"x24" and a maximum size of 30"x96".
What are the most common sizes for pole banners?
The most common sizes for pole banners are 18"x36", 24"x36", and 30"x36".
Can I order a custom size pole banner?
Yes! Although the widths we allow are only 18", 24", and 30" we offer additional lengths other than the default of every six inches. We offer lengths every whole inch between 24" and 96". If you need a custom length between 24" and 96" please contact us.
Do you offer pole pockets on your pole banners? What sizes do you offer? Any restrictions or differences?
We offer two inch pole pockets on our pole banners which fit hardware arm poles up to 1.25" in diameter. We also offer pole banners with three and four inch pockets. Three inch pockets allow for hardware arms 1 1/4" to 1 13/16" in diameter. Four inch pockets allow for hardware arms 1 13/16" to 2 7/16" in diameter. For banners with three or four inch pockets selected as an option, hardware is unavailable at the current time.
What shape are your pole banners? Can I get a different cut or shape?
Our pole banners are standard cut which means they will be a rectangular shape. We don't currently offer halo, contour, or any other cuts for pole banners.
Will my pole banners have seams or hemming?
Our pole banners are double sided and printed on a single piece of banner material. This is known as single ply printing. We also produce each pole banner with a pole pocket, the default of which is two inches. These pole pockets are are hemmed two, three, or four inches from the top of banner depending on which pole pocket size is ordered. Thus, with pole pockets you will see two horizontal hem or stitch lines.
Is there a matte or glossy finish for your pole banners?
Our pole banners have a matte vinyl finish to them. This finish is waterproof and UV safe making it great for outdoor use.
Are grommets available for your pole banners? Can I change where they are placed?
We include four brass grommets on each pole banner. These grommets are included at no additional cost and are placed at each of the four corners of the banner under/above the pole pockets. These grommets are excellent for using zip-ties or another type of fastener to secure the banner to the hardware to help keep the pole banner in place. Grommets aren't optional and are included on each banner. Grommet position isn't customizable.
I see that you offer pole banner hardware but I only need a replacement banner. Can I get a banner without hardware?
We offer the hardware or pole banner kit as an additional option to the banner in the event that you don't have pre-existing hardware or need a banner at a different length than your pre-existing hardware. Thus, if you are looking for a graphic without the optional hardware you may order a banner as a standalone item. We do not currently offer only the hardware or kit without a banner.Lastly, only the banners with 2" pole pockets are available to be ordered with hardware or a kit. Banners with 3" or 4" pole pockets can not have hardware shipped with them at this time.
What comes in the hardware kit and what materials are these items?
Our hardware kit is available as an add-on item for purchase with pole banners that are ordered with two inch pole pockets. The hardware kit contains two fiberglass arms, two cast metal mounting brackets, four steel bands, and accessories (2 threaded screws and 2 pins with key rings) to secure your poles and banner.
How thick of a pole or post is the hardware compatible with? Any restrictions?
To secure hardware to a pole or post, mounting brackets are to be fastened and secured with the steel bands included in the hardware kit. These steel bands extend in length to 47". This means the circumference or perimeter of the desired install pole must be less than 47". Assuming the pole is less than 47" in circumference or perimeter there are no restrictions as to where your mounting bracket and pole banner can be installed.
Can I order replacement or additional hardware as standalone items?
No. Currently we are unable to offer only hardware or the kit as a standalone purchase. The hardware or kit is only available as an option when purchasing 2" pole pocket banners.
What is the print area for your pole banners?
Our pole banners are printed with an area of your selected size. If you are wanting a banner measuring 18"x36" you will able to print your graphic within an 18"x36" area. This area includes both top and bottom pole pockets and should be factored into your design. If you don't want to print your design on either of the pole pockets factor in two inches from both the top and bottom of the pole banner.
Do you offer color matching for your banners?
We do not currently offer color matching for our pole banners.
How do I upload my custom pole banner design to your design tool? Are there any restrictions?
To upload your artwork or design simply go to our design tool and click the upload button and select your design file from your device. We accept design files in the formats of .ai, .eps, .svg, .pdf, .jpeg, .jpg, .png, .gif, .bmp, .tiff, and .tif. We recommend you upload vector artwork. When uploading bleed use .25" on all sides. Our design tool maximum file upload size is 25MB. For files larger than 25MB you can use a low resolution image to place your order and then upload the higher resolution file to our file uploader. You can leave a comment on the checkout page that you'll be doing so. Post-checkout, simply fill out the form on that page with your name, email, order number, and any comments regarding your file. After filling out this information click the "Next" button and "Click or Drop Here" button to add a file from your device. After uploading your file click the "Finished Uploading" button to finalize your file upload. After you've completed the file submission we will make sure to use the higher resolution file for your custom sign.
I need help designing my pole banner. Can you help me design my pole banner?
Absolutely! We'd love to help you get the perfect design for your banner. We are proud of our design services and the best part is they are completely FREE!
Usage
What are some typical uses for pole banners?
Some common uses for pole banners are signs on light poles or lamp posts next to or along main roads, streets, boulevards, and city avenues. They are a great way to advertise at car dealerships and promote events, celebrations, and anniversaries for municipalities or college campuses. They are especially useful for seasonal use during the summer and winter holiday periods.
I have two different graphics. Can I put two banners on a single hardware arm, back-to-back?
Unfortunately the only way to feature two graphics on the same hardware arm is by having a double sided banner. The poles and hardware kit can not have two separate banners slid onto them. Nonetheless, you are able to print the two side differently by selecting the "2 Sides Different" option while designing your banners on our design tool.
Can I install my pole banner outdoors? Are they weather resistant? Will wind damage them?
Yes! Our banners for street poles are able to be used both indoors and outdoors. They are waterproof and UV resistant. The grommets are intended to allow for use of zip ties to securely install the banners in the case of moderate wind. While weather conditions and general climate will affect the lifespan of your banners, they are produced to withstand prolonged outdoor use. The biggest potential problem for your banners is extreme weather. If such weather is imminent, we recommend considering removing your banners until the weather passes.
Will my pole banner fade? Will the graphic wear off?
Since our banners are UV safe they will be resistant to fading in direct sunlight. However, over an extended period of time in UV light, like any other banner or sign they will begin to show natural signs of wear and use. Because of our digital printing method your graphic will not wear off.
Do you offer pole banners with wind slits?
We don't offer our pole banners with wind slits. While there may be some benefit of doing so, the wind slits also make your banner less architecturally sound, more prone to ripping and tearing, and create less visibility to your graphic.
Can I reuse my pole banner?
Absolutely! Pole banners and their hardware are reuseable. When not in use be sure to clean them off and store them rolled up and placed in a hard container or somewhere where objects won't be placed on top of them. We recommend storing them in a dry environment and away from items that may scratch or damage the banner material. Many times pole banners are intended for short term or one time use. Be sure to check that your design has evergreen information and not specific dates or times that may prevent you from using the banner again in the case of annual events.
What is the lifespan of my pole banner?
Since these banners are exposed to the elements more than some of our other products they typically have a shorter lifespan but with proper installation and care you should be able to use them for two or more years.
Installation & Care
How do I install my pole banner? How do I install my hardware? Is there a way to secure the banner to the hardware?
To install your pole banner you'll want to begin by installing the hardware unless you having pre-existing hardware already in place. To install the hardware you may require the help of a second person to assist you. Begin by measuring the length of your banner and place the mounting brackets up against the desired post or pole with the proper distance between them based on the length of you banner. Fasten the mounts to the pole with the four steel bands. You'll use two steel bands per mounting bracket. Once the brackets are fixed to the pole you can insert each of the fiberglass arms in, one per bracket. To secure the fiberglass arms to the mounts you will use the threaded screws, one per bracket. The pin with key ring will be inserted into the other hole on the mounting bracket and is used to attach a zip tie from the keyring to the grommet on your banner. After installing the hardware you may start to slide the pole banner onto each of the extended fiberglass arms, sliding both the top and bottom portions of the banner onto the arms at the same time until the arms are completely covered by the graphic. To secure your banner to the hardware, fasten with zip-ties (optional) through each of the grommets on the side of the graphic where the hardware is and loop the zip-tie through one the pin's keyring. Fastening the graphic to the hardware will improve the banners resistance to wind and keep it in place during windy conditions.
I want to have a dual banner setup. What's the best way to get this look?
You can absolutely use two banners on the same pole or post. In order to get this look you'll need to order two pole banners and two sets of hardware. If you are wanting the same graphic for each you can simply add hardware as an option and change your quantity of banners to two before checkout. When installing the banners you'll install both sets of hardware but use a single steel band for mounting both the top and bottom sets of mounts. Doing so will leave you with four extra bands once the installation is complete. This is only possible with 2" pole pocket banners due to the fact that 3" and 4" pole pocket banners are not currently sold with the optional hardware kit.
How do I remove my pole banner? How should I store it?
To remove your pole banner from hardware reverse the steps of installation. Begin by removing any zip-ties, loosening the threaded screw, and sliding the banner off each of the fiberglass arms. To store the graphic you should start by thoroughly cleaning it with a damp cloth. You may use a mixture of warm water and dish soap to create a cleaning solution for the cloth. After cleaning the banner and allowing it to air dry or wiping it with a non-abrasive cloth, roll the banner up and place it in a dry, cool place away from any direct sunlight or weather exposure.
How do I clean my pole banner?
To clean your hardware or pole banner we recommend using a mixture of warm water and dish soap with a damp cloth. Be sure to use a non-abrasive or microfiber cloth to prevent and scratching to the graphic. Gently wipe away dirt or dust on the hardware or banner and let them air dry.
I removed my pole banner from shipment or storage and it is wrinkled. How do I remove these wrinkles?
Wrinkles may occur during shipment and storage. Luckily they are normal and can easily be removed. To remove any wrinkles unroll the banner and place it flat on a table outdoors during a warm sunny day. After a few hours the warmth of the sun should ease any light wrinkles out of the material. Installing them and having them sit in the sun should do the same thing!